It was a historical November for the world's automotive sector. Elon Musk's Tesla became one of the most valued companies in the world with a market capitalisation of over USD 1.1 trillion! Another EV company, Rivian, made its stock market debut at a valuation of USD 100 billion in what was one of the world's biggest IPOs, while EV start-up Lucid's market value surpassed that of Ford.
Sceptics are already whispering about the possibly of this being a 'bubble in-the-making'. Be that as it may, this dramatic and massive shift in investor interest points towards a bigger transition in favour of renewable energy.
A virtuous cycle is in play. Consumers are making a visible shift and opting for cleaner and greener options – i.e. EVs. Policy makers and governments are playing their part in this drive towards efficiency. Now that we have reached this stage, we need to put our pedal to the metal. The world still needs to see emissions decrease by 2.1% every year between 2021 and 2030 to achieve the larger goal of net-zero emissions by 2050.
In focus: sustainable transport
According to the United Nations, 'By 2030, annual passenger traffic will exceed 80 trillion passenger-kilometres — a 50 per cent increase over 2015 estimates, putting an additional 1.2 billion cars on the roads by 2030. In the absence of transformative change towards sustainable transport, this could mean rising emissions, increasing air and noise pollution, and worsening trends in road safety'.
We cannot let that happen. Therefore, sustainable transport is the need of the hour. But humans have been burning fossil fuels for transport for a very long time. The problem is not only old but also large and complex. Given the magnitude of the task and the diversity in modes of transport, we need multiple solutions and new approaches.
Therefore, along with EVs, we also need to create virtuous cycles for heavy-duty vehicles, railways, shipping and aviation. It will not be easy to make the transition because even though the transport sector accounts for a third of the world's energy demand, it has the lowest level of RE usage. This is both a problem and an opportunity.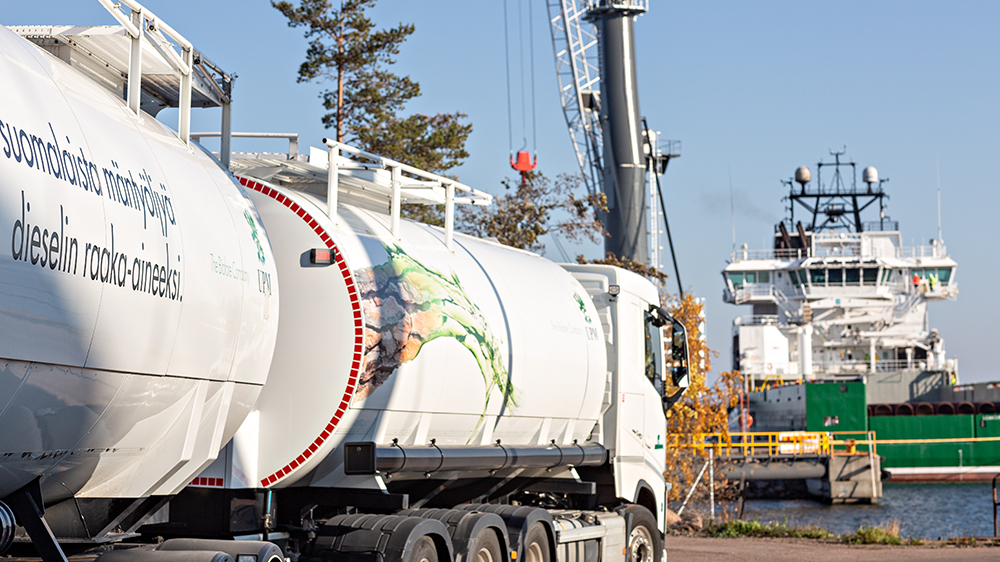 Image: UPM Biofuels
Innovation Pathways
The good news is that there are several innovations underway. For instance, the maritime sector is working on replacing fossil fuels in long-haul freight transport with renewable hydrogen-based fuels or fuel-cells. Some airlines are using synthetic fuels produced by combining CO2 (often directly captured from air) and renewable hydrogen. However, these power-to-liquid (PtL) and e-fuels still need to pass the test of commercial viability and scalability.
Biofuels help provide a quicker solution. Ethanol and biodiesel have been around for decades and renewable hydrocarbon fuel for years. They are commercially produced and widely utilised in road transport. Also, the aviation sector is already blending biofuels with kerosene jet fuel to make flying more sustainable. But why biofuels?
According to the IEA, replacing fossil fuels with biofuels is one of the primary ways to decarbonise the transport sector. It estimates that to achieve net-zero emissions by 2050, the transport sector will need biofuels to account for 64% of its renewable energy consumption by 2030. That will mean that biofuel consumption by the sector needs to multiply four-fold to touch 12% of global transport fuel demand from the current 3%.
The case for Biofuels
The IEA estimates that in the net-zero scenario, biofuels produced from waste, residues and dedicated crops that do not compete with food crops will have to grow significantly. Currently, used cooking oil and animal fat provide a large part of waste feedstocks used in biofuel production. The problem is that global availability of such waste feedstock is limited.
Going forward, to meet the growing challenge of transport decarbonisation, the biofuel sector will have to shift gears and work on advanced biofuels. It needs to develop new applications and technologies capable of converting residual solid biomass into high-quality fuel.
More focus should also be put on biodiversity and sustainable land use, as well as the ability to produce new feedstock for renewable fuels. Regenerative agriculture and the reforestation of earlier deforested land with oil-yielding plants are ways to produce new feedstock that help replace fossil oil use in transport. When done right, feedstock production through regenerative land use helps to store carbon in soil, improve soil health and produce additional protein streams.
No doubt, the case for biofuels in sustainable transport is strong. But the industry is at a crossroads. It will need large investments, R&D, innovation and a benign regulatory environment to move forward. Therefore, all stakeholders – biofuel companies, governments, policymakers, investors and consumers – will need to work jointly towards this larger goal. The EV sector is proof that achieving this is possible.