If I was to write a post on UPM's LinkedIn page about my summer in UPM's Communications and Brand team in Helsinki, it might read somewhat like that. Indeed, I became very familiar with UPM's different social media channels over the summer. I shared posts about various topics, especially articles on the UPM website. In addition, together with a UPM Forest communications trainee I planned and executed a summery social media campaign, centered around UPM's forest messages and for example biodiversity. This project was interesting not only because of the campaign itself and all I learned about sustainable forest management, but also the campaign analytics afterwards – why did some posts gain much more attention than others?
Writing this blog post for the UPM website also feels very routine for me, and no wonder: I wrote several articles for the website and intranet during the summer. The topics varied widely in the intranet articles, but in external ones I had particular interest in responsibility and sustainability topics. One of my most interesting articles from the summer was one about the new CO2 and energy reporting system, which was a result of interviews with many UPM experts. Making the article and especially the interviews was very interesting, and I learned about sustainability reporting. Also an article about researchers at the Biofore Base in Lappeenranta was very interesting to make, and I was inspired by the interviewees' work with new innovations. I also made a presentation for internal use about the UPM responsibility recognitions, and learned about different indices and ratings during the process.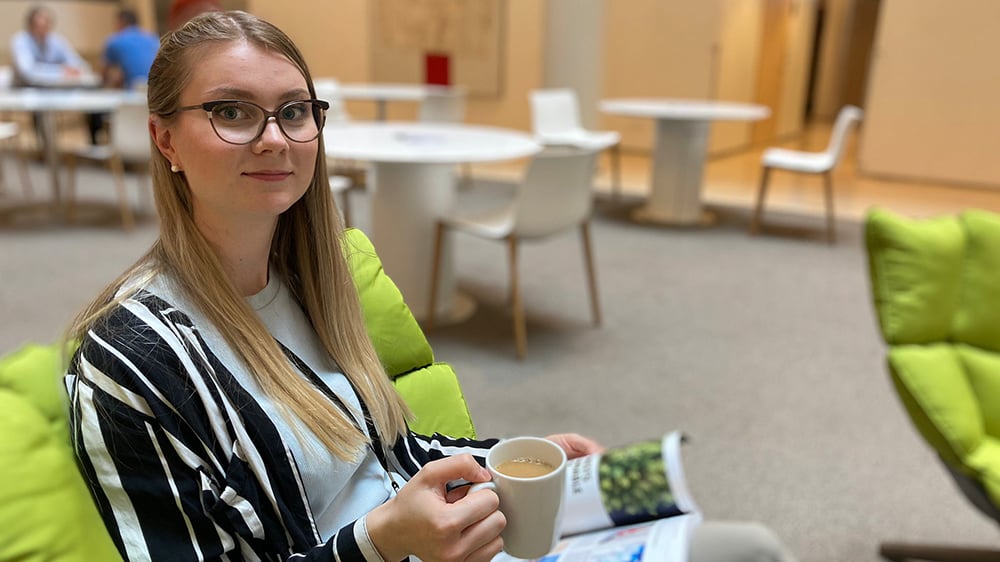 Challenges and learning new
As a journalism student, planning and producing texts has been my strength prior to the summer. During the summer, though, I got to do a lot more than just write. As an example, I coordinated a map service project, in which the descriptions of UPM's locations were renewed in different map services, like Google Maps and Apple Maps. I went through the addresses, contact details and coordinates of the locations globally and wrote new descriptions for them. Moreover, the locations had to be verified on Google, which turned out to be surprisingly challenging: some locations even had to be sent a verification code by postcard after there was no success any other way. During this project I became familiar with the global locations of UPM's business areas, and talked to many contact persons whom I would not have interacted with otherwise. A major part of the project was also coordination work, where I dealt with communications internally and with an external partner. This required being very systematic, and I find myself to be more prepared to coordinate such projects after this experience.
The summer was very educational for me and I believe my communications skillset has become much more versatile after all of these different projects. I learned a lot from my teammates and other UPM'ers, and the summer was also very fun!
Over the summer I also got to spend a couple of weeks in the UPM media desk, which includes for example writing and editing press releases and replying to media's inquiries by phone or email. It was very fascinating to try this side of communications work as well, although July was not the busiest time for media inquiries due to summer holiday time in Finland. I found it particularly interesting to follow the news after the Q2 result was published and see what was brought up in these articles.
During the summer I also made a podcast series in which I interviewed five summer trainees from all over Finland. Making the podcasts was interesting especially because I hadn't really done anything similar before. The interviewees had very different summer jobs, which made it fascinating to hear about their experiences and what they have liked and learned. I noted during recording the podcasts, and even otherwise over the course of the summer, that UPM'ers tend to appreciate similar things regardless of their unit or role, such as variety of tasks, positive and encouraging work environment, internationality, and trust. I myself also find these to be some of the best things about UPM.
Listen to UPM summer trainee podcast!
Useful experience for a new role
The summer was still affected by the COVID-19 situation in Finland, and communication with my teammates was mostly via Teams. The situation also meant I didn't get to visit any of the production sites, since understandably only necessary visits were allowed. Despite this the summer was very educational for me and I believe my communications skillset has become much more versatile after all of these different projects. I learned a lot from my teammates and other UPM'ers, and the summer was also very fun. You could say there was not a boring moment!
I also gained useful experience from the summer for my new role as UPM Timber's Communications and Marketing Specialist, in which I got to continue directly after the summer. The fixed-term position in Tampere suited me well since Tampere is where I live and study too. Working in the Timber business is interestingly different compared to the Group communications, with an emphasis on internal and customer communications. After my summer in the Group communications and autumn in Timber, I believe I know UPM as a company and the field of communication more widely. During the autumn, I have even been able to make my first production site visit to UPM Seikku sawmill in Pori!