Reforestation initiatives have taken off as countries seek to limit global warming to 1.5 degrees Celsius. The Paris Climate Agreement specifically encouraged governments to engage in sustainable forest management as a way to preserve carbon sinks, and the 2019 IPCC report cited planting new forests and preserving existing forests as an important way to combat temperature rise.
Last year, social media influencers led by Jimmy Donaldson, who goes by the name of Mr Beast on Youtube, urged their followers to donate to the US-based non-profit Arbor Day Foundation to plant 20 million trees. Their call went viral and resulted in USD 23 million donated to the Foundation.
Matti Maajärvi, Senior Specialist, environment, UPM Forest, says that while these types of initiatives are good and much needed, their effectiveness and long-term impact depends on a number of factors.
"The location needs to be studied, the best tree species for that location need to be selected, the surrounding ecosystem needs to be looked at, and the impact on nearby communities needs to be assessed," Maajärvi says.
The right tree in the right place
Experts stress that choosing the correct species for seeding and/or regeneration is critical for effective carbon sequestering.
"In Finland, a tree breed that grows in the south will be not suitable for the north of the country," says Maajärvi. "Native species work better at assimilating to the surrounding ecosystems, so planting the wrong tree species may have a negative impact on the wider environment."
Various other environmental factors also play a decisive role in the effectiveness of reforestation campaigns, such as the type of nutrients in the soil, hours of sunlight, level of rainfall, annual average temperature and resistance to pests in that region.
Bradley Brandt, Manager for Forest Restoration Programmes at the Arbor Day Foundation says: "Every region is different and therefore poses different challenges to growing or regenerating a forest, but before we start any of our campaigns in the US or around the world we lean heavily on scientific research and local expertise to determine the best path forward."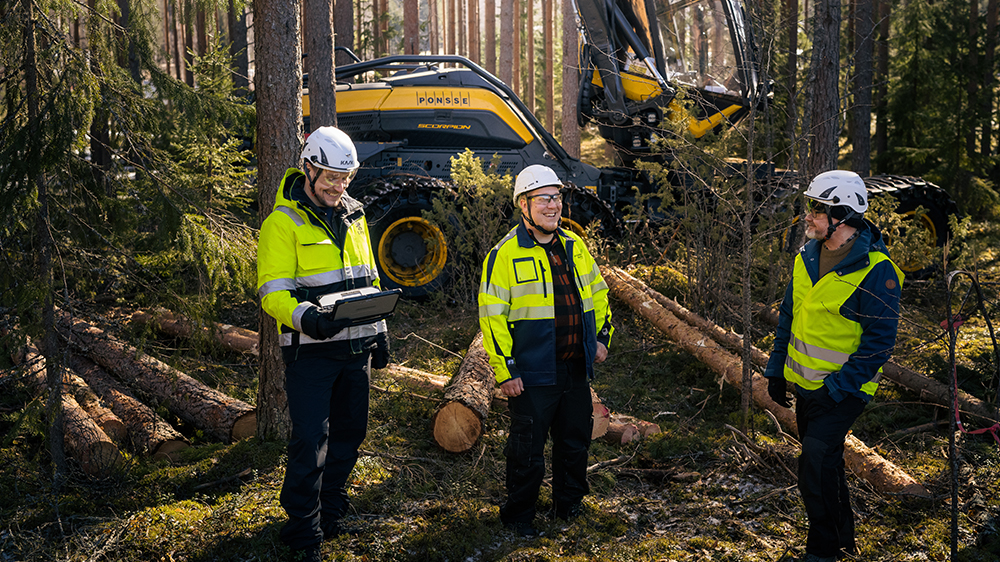 Forest management is crucial to maintaining healthy trees. Photo: UPM
Forest management
Conservationists suggest that long-term management of existing forests can make them better carbon sinks and also improve their ability to withstand wildfires, severe storms and droughts.
"By good and timely forest management, the healthy growth of a new forest can be secured. A good start is crucial for the growth potential of a forest stand. And this is naturally reflected in forest's ability to absorb carbon. For existing managed forests, proper forest management allows improved growth and thus higher carbon sequestration rates of trees," says Maajärvi.
It can take several decades for a new or regenerated forest to become an effective carbon sink.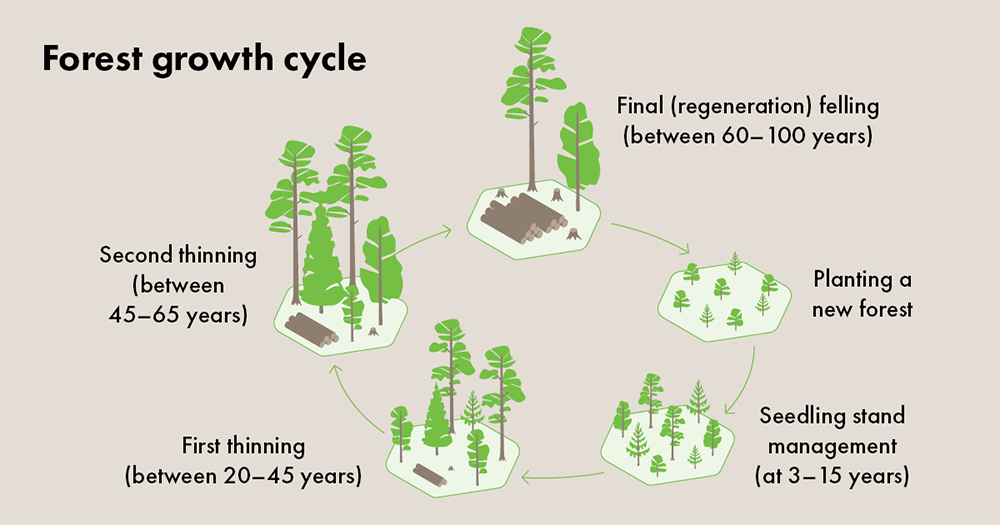 Forest growth cycle in Finland. Photo: UPM
When nurturing a new forest, seedling stand management is important for freshly planted young saplings. Clearing diseased or poorly growing saplings creates space and enables more soil nutrients for healthy seedlings.
"In practice, this means some seedlings are cleared away and those we want to grow are left," Maajärvi says. "In Finland, there are typically two management rounds in seedling stands in the first 15 years. Thinning is the next process, taking place first when the forest is 20-40 years of age and then again after 15-30 years.
Brandt agrees that good management is key to the eventual success of a forest.
"The first year is crucial, if it's a major reforestation programme, then perhaps we cannot check every tree, but we would take a subsection of the forest for examination and check the rate of growth of saplings, prevalence of pests and diseases, conduct survival tests and have people, often locals, in the landscape to monitor the programme."
According to the World Resources Institute, tropical tree cover alone can help achieve the goals set under the Paris Climate Agreement by nearly 25 percent.
The funds donated by the social media influencers and their followers will help plant nearly 23 million trees around the world. The Arbor Day Foundation has already begun planting saplings in the US state of Oregon and has further plans to fund reforestation campaigns in other locations.
Planting the trees is only the beginning, however. Careful management is needed to make sure these new additions can make a difference in the fight against climate change.
Main image: UPM