Pulp has been at the heart of papier-mâché creations for millennia. However, 21st century designers, architects and artists have been transforming this age-old crafting process into a new facet of sustainable interior design, infusing it with a variety of innovative and exciting twists.
Household items, artisanal furniture and ornamental accessories are all being produced from pulp and there has been media coverage of several large-scale projects utilising the material over the past few years. Thanks to its versatility and environmental benefits, pulp could become even more popular in interior design.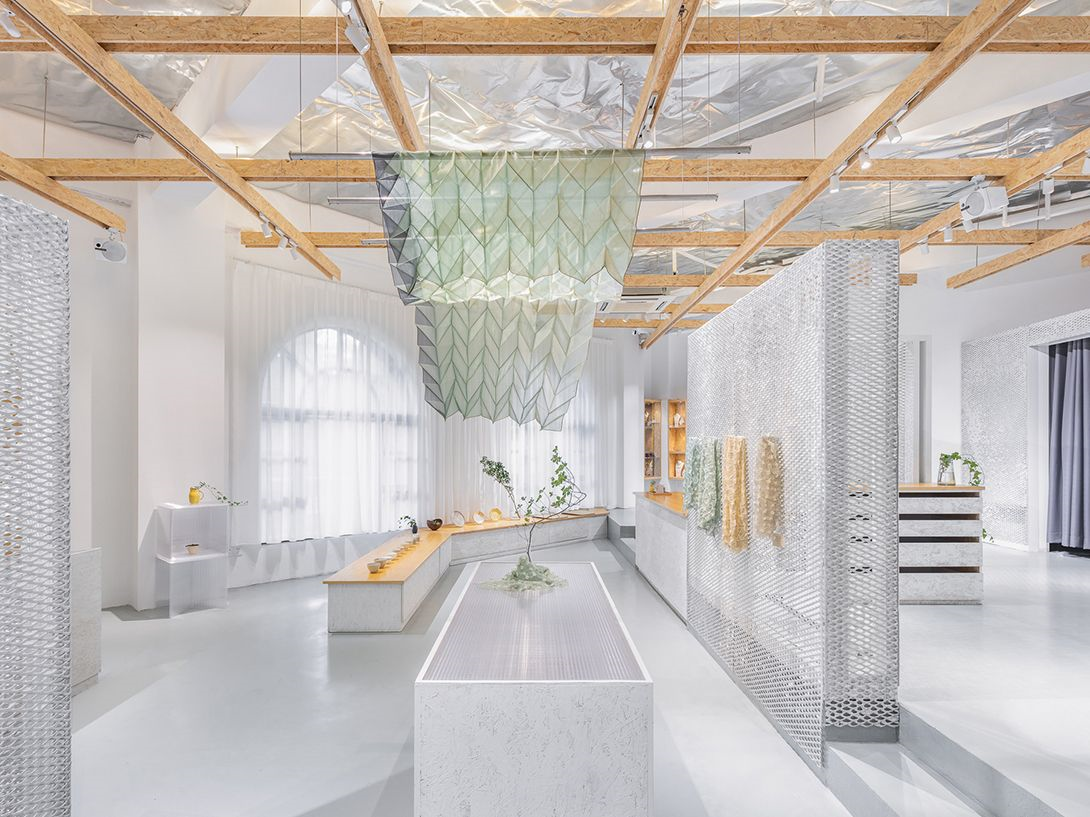 The pulp mesh adds a unique and beautiful visual element to the space. Photo credit – Dirk Weiblen
Chinese beat paper to a pulp
More than two millennia after paper was created by the Chinese inventor Cai Lun, Shanghai-based architecture studio CATS followed in his footsteps by adapting an ancient pulp formula, which is very fibre rich and adhesive. For the firm's first interior design project, they created an innovative interior for a handicrafts store in Nanjing, east China.
Co-founded by Huang Wenxin, Chen Shengze and Chen Yancheng, the trio began their professional lives with the Kengo Kuma and Associates, which designed the interior of artist Antoni Clavé's archive in Paris. As part of that 2018 project, the Japanese firm covered sheets of expanded-metal mesh with moistened paper to soften the aesthetic.
Building upon the idea, lead designer Huang says that they decided to use mesh panels as a wall system for hanging the products, as well as creating a poetic atmosphere for the handicrafts. "Due to the limited budget, we used traditional Chinese pulp to reduce the cost," she explains, adding that they also conceded a decorative surface in exchange for increased functionality.
Through perseverance, the weeks of testing eventually created more than 20 flame-retardant, pulp-aluminium plates that will support product display shelves, as well as complement the tactile feel of textile works featured in exhibitions occasionally hosted by the store. The team is very proud of their experiment with traditional Chinese pulp.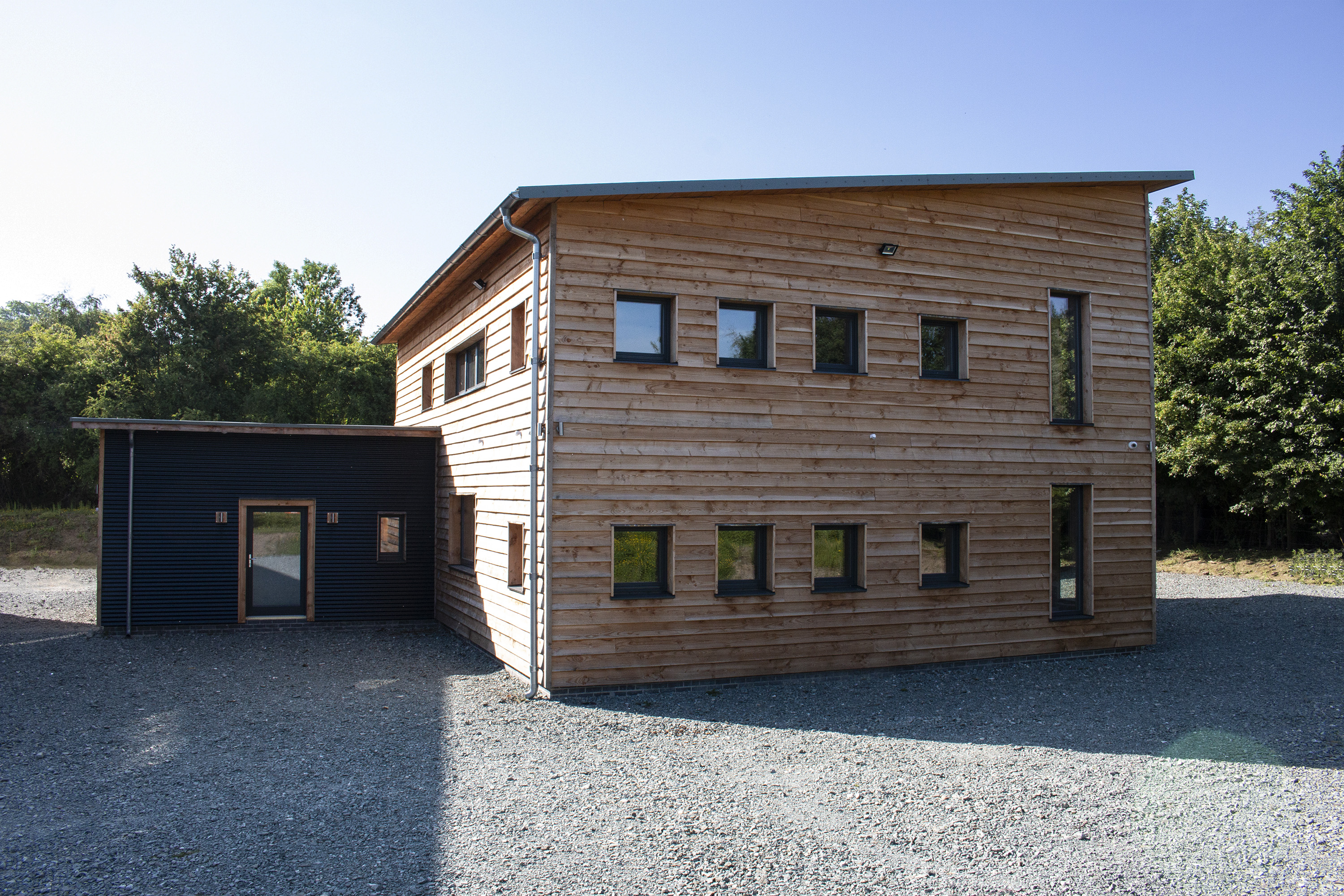 PYC's office is made from timber and insulated with cellulose fibre insulation. Photo credit – PYC Group
Pulp offers sound interior design
The experiment in China is part of environmentally sustainable interior design, an industry that is supported by a range of products made from upcycled paper waste. For example, Seattle design studio Graypants and Amsterdam-based Good & Mojo make light fittings from recycled paper, while Modesto and SmartDeco produce heavy-duty cardboard furniture.
Many of these producers are small-scale, since going into mass production can be a catch-22, according to Jasper Meade, who has over 25 years' experience in the sustainable building industry. "You can't put the marketing budget unless you really believe in it or have got the sales to back it up—and you're up against big companies."
Meade is the director of Wales-based PYC Group, which worked with London architecture studio Carmody Groarke to create a high-profile exhibition space in 2017. Using a recycled paper-pulp material called Soundcel that is usually used for acoustic insulation, they helped to create towering stalagmites and sprayed the basement walls of London's Design Museum.
"The designers originally wanted it to be a petrochemical foam installation when they came to me. I said, 'I don't do that, but I do this…' It has generated a lot of interest, but customers often don't understand how the product can work and what it is," states Meade.
Soundcel is a fibre product, which, in this case, means recycled newspaper with added glues to make it adhere to any surface to help absorb and reduce sound. Not only is it natural and locks carbon into the building but is also flame retardant and available in every Pantone colour an interior designer could desire. There is also Warmcel, a wall and roof thermal insulation as a 'sister' product.
The trend of utilising experimental and innovative materials will continue to develop, as consumers become increasingly aware of the impact their lifestyle choices have on the environment. Sustainable interior design is in its infancy, but withing the next decade you could have an item of pulp-based furniture in your home or office on an everyday basis.
Text: Asa Butcher
Header photo: Dirk Weiblen