Delipap is Finland's only manufacturer of disposable diapers and sanitary towels. Employing around 65 people, the company was founded in 1979 by Raimo Nuortie, a pioneering paper industry expert who wanted to invent a product to replace the cloth diapers that irritated his son's sensitive skin. By mixing clean wood pulp with paper, he managed to create an evenly absorbing soft shell construction, which he then patented.
Delipap has remained a family business and is now run by Nuortie's daughter, Sanna Karhu. She has a clear vision of the company's standpoint. "I want Delipap to be the Tesla of hygiene products. We aim to provide the best possible quality, but we also want to be the most sustainable."
Karhu admits that sustainability is a wide landscape. While local sourcing and manufacturing combined with ecological responsibility are key, the wellbeing of employees and consumers is also part of the package. "Responsibility comes with always making the best possible choice. The cellulose we use comes from clean forests and is the eco-friendliest we know of. If we use cotton, we use organic."
Karhu admits that their expectations have risen through the years and trustworthy partnerships are essential, especially during uncertain times. "We are a relatively small organisation and a good network is vital to us. We choose to work with companies that have a good reputation because we value long-term collaboration, responsibility and reliability. Mutual trust bears fruit even during difficult times," she says.
Delipap and the Moomins have been keeping babies dry for nearly 30 years. Photo: Delipap
Sharing Moomin values
Due to the lack of local competitors, Delipap instead goes head-to-head with large international brands. In Finland, their market share is around 15% in both the diaper and sanitary towel markets. The company exports to around 25 countries, of which South Korea is their biggest market with a turnover of over one million euros.
One of Delipap's best-known brands is the Muumi Baby diape The collaboration started in 1991 and the products became one of the first daily consumer goods bearing the much-loved characters created by Finnish artist Tove Jansson.
"My father was a passionate art lover and had acquired works by her. To him, the Moomins had such lovely round bottoms and values that he could stand by. They are family-focused, down to earth and they look after one other and the environment," Karhu says fondly.
Since the company's early days, Delipap's pulp has been supplied by UPM RaumaCell, a Finnish company that specialises in the production of fluff pulp for, among others, diapers and hygiene products.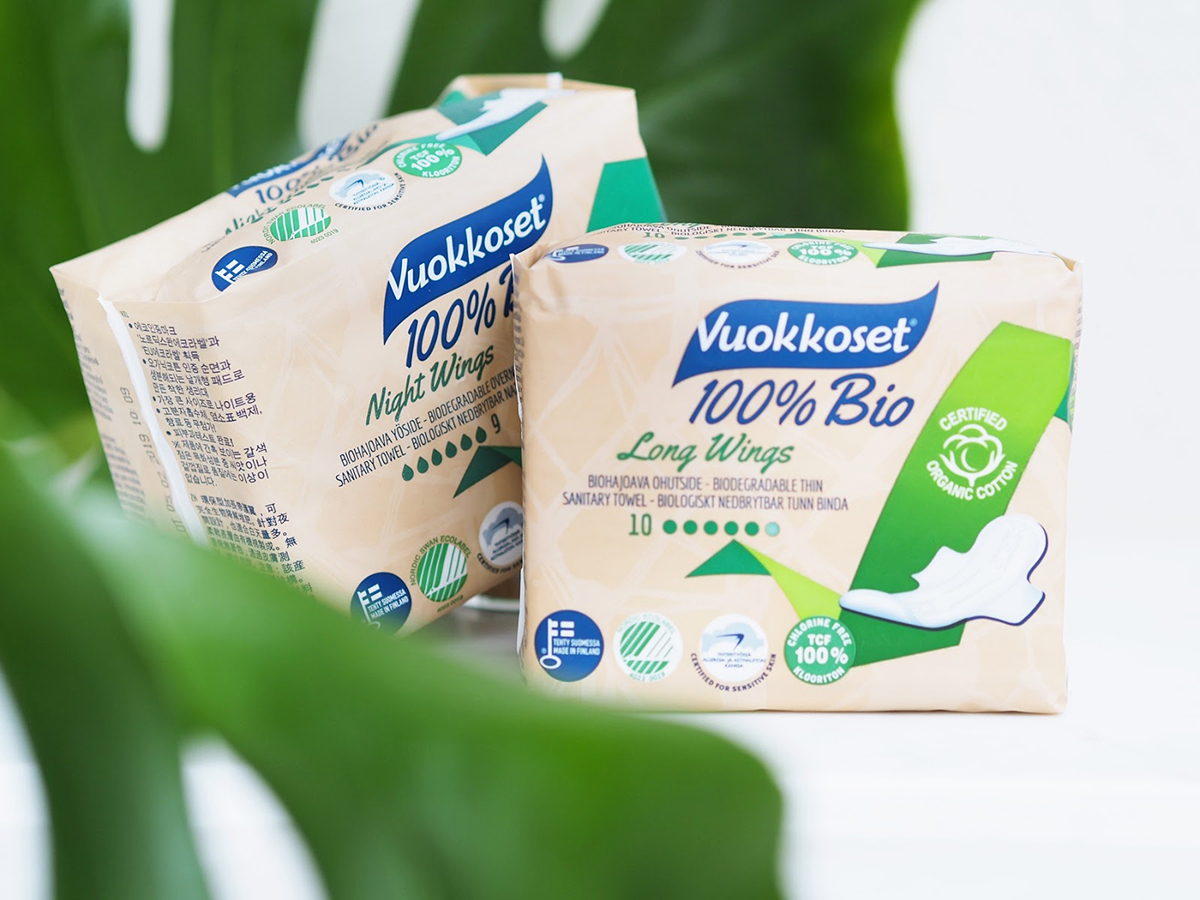 The company been producing biodegradable sanitary towels for more than a decade. Photo: Delipap
A cut above the rest
Certification is one way to address the sustainability of their products. The Allergy, Skin and Asthma Federation, the Finnish Key Flag Symbol and the Nordic Swan Ecolabel all define their own criteria, yet Delipap's marketing director Katarina Hanell says they like to aim higher.
"We produce wellbeing products that come into close contact with skin and therefore our products need to have as few chemicals as possible. The Nordic Swan Ecolabel doesn't require chlorine-free cellulose, for example, but we do because that is the best option."
Consumers' expectations have also risen over time and the development process of hygiene products is continuous. Delipap looks ten years ahead when creating new products, of which Karhu gives an example. The company has been producing biodegradable sanitary towels for a decade, but consumers still think it is a new innovation because many people have only recently started paying more attention to their daily choices and the impact those can have. Growing awareness is reflected in their customers' feedback.
"Previously, people only got in touch if there was something wrong with the product. Five years ago, people started asking about chemicals and now they ask about sustainability. It is our responsibility to make the best possible decisions on their behalf because we cannot expect the consumers to know everything. Sometimes that means we have to make choices that the world is not yet ready for."
Text: Laura Iisalo