When it comes to transporting goods across the world, no other mode of transport is as effective or as economical as maritime transport. Data from the International Chamber of Shipping indicates that nearly 11 billion tonnes of cargo are transported by ship each year, making it indispensable to our daily lives.
At the same time, the maritime sector also emits about 940 million tonnes of CO2 annually and is responsible for about 2.5 per cent of the world's greenhouse gas emissions. The sector is scrambling to rapidly reduce emissions by investing in digital technologies, energy-efficient vessels and clean fuels.
UPM is dependent on shipping too to get its products to its customers across the world, and oftentimes, the company helps transport other non-UPM cargo as well. As the arm responsible for UPM's global sea transportation and port operations, UPM Logistics has been time chartering nine vessels in Europe to carry out the company's cargo shipping needs.
"UPM Logistics acts as a carrier in a number of European traffic areas with time charter vessels," says Lauri Rikala, Director of Global Break Bulk Shipping at UPM. "This means that we lease the vessels and crew on a long-term contract from shipowners and operate the vessels in specific trading areas with operational and economical responsibility. As part of our company's continuous focus on sustainability, we are constantly on the lookout for different ways and means to improve our fleet's energy efficiency, while reducing emissions and fuel consumption."
A fleet to 'green' shipping
This is why the company has invested in operating a fleet of seven new environmentally smart LNG vessels built and owned by Bore Ltd and Wijnne Barends BV. The seven vessels are newbuilds with the first vessel by Bore Ltd being delivered to UPM in early 2022 and the rest of the fleet during 2022.
"The new vessels running on LNG will consume less fuel than our present fleet of vessels. Through this fleet modernization we are showing our commitment to cutting down our emissions and also helping our customers to do the same," says Rikala.
The new vessels will offer scheduled sailing from Finland to Poland, Sweden, Germany, the Netherlands, United Kingdom, France and Spain. Southbound cargoes will typically consist of UPM products such as paper, pulp, timber and plywood, while northbound routes will see raw materials such as china clay, woodchips and pulpwood being carried for use by UPM's various businesses.
"We operate about 20 voyages every month carrying over 100,000 tonnes of cargo to and from our various customers and suppliers. We also transport a large number of cargoes for non-UPM shippers including ro-ro cargo, containers, wind-mill blades and forest industry products," adds Rikala.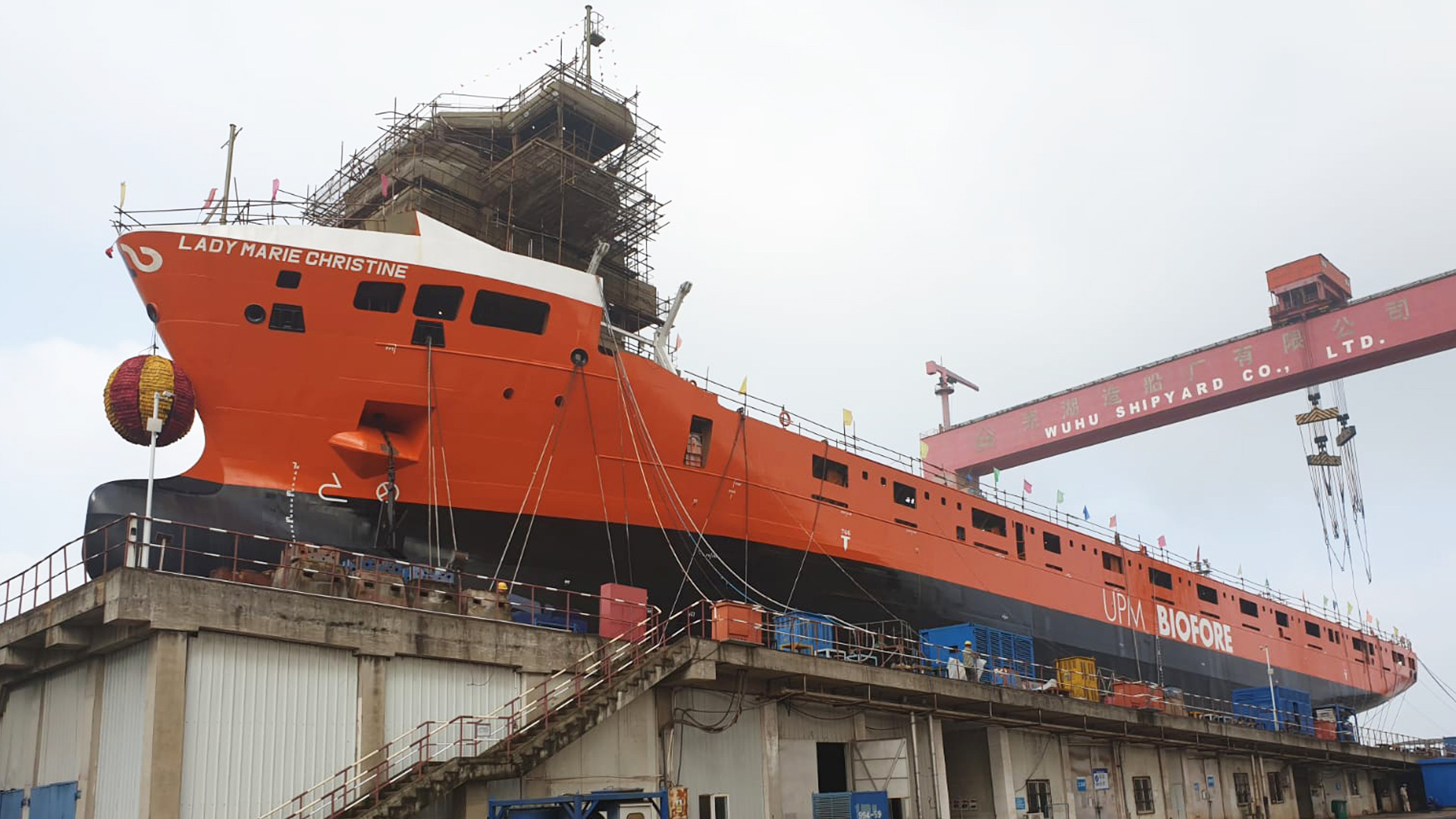 The new LNG vessels will consume less fuel than UPM's present fleet of vessels, automatically reducing its carbon footprint. Photo: UPM
Cutting-edge technology to reduce emissions
The new fleet will operate on liquefied natural gas (LNG) fuel. These new generation vessels require strict safety standards implemented onboard and, in more ways than one, LNG seems to be the best solution in the short and long term.
"Using LNG fuel as the primary fuel will enable us to meet new rules for CO2 emissions. It lowers the total emissions and with it, we can also comply with NOX regulations," says Torsten Nordqvist, Master Mariner at Bore Ltd. "The working environment with gas engines is a big improvement for worker health, especially for engineers. It also has an impact on the big coastal cities where the air quality has already improved due to the shift to natural gases."
The vessels have also been designed with the digital age in mind, carrying on-board cutting-edge technologies to monitor emissions, reduce fuel consumption and help augment mariner work and safety. The latter is particularly important when it comes to operating in the busy trade routes that UPM plies.
"The technology on the bridge has changed the way of working, from being mainly on paper and pencil to fully integrated, computer-based systems that reduce the chance of human error and help generate real-time insights into shipping operations," says Nordqvist, "But the most important change from my perspective is how these new technologies create a larger awareness of the environment and how best to minimise a vessel's impact on it. This can be observed in all of the operations on board."
In operating this new fleet, UPM will be pioneering a new path in the forestry industry becoming the first company to upgrade its transportation network with environmentally smart vessels. At a time when industries across the world are seeking new ways to decarbonise their business models and value chains, UPM hopes its initiative will both set an example and also help reassure customers.
"UPM has committed to reducing the Green House Gas emissions of its supply chain by 30 per cent by 2030. As part of our efforts to meet that target, it was crucial for us that we invest in a modern fleet to meet the most stringent environmental requirements. And through these investments, we will also help deliver lower carbon footprint to our customers' value chains," concludes Rikala.
Text: Sini-Maria Melanen
Main image: UPM