Wood is one of the most versatile, sustainable and popular materials in the world. But there are many factors that affect where and when it should be used. We find out more.
For centuries, wood has been a versatile, long-lasting and feasible material. This is why we love being surrounded by it in our building structures, log cabins, doors, window frames, interior floors, panels and mouldings, furniture, outdoors terraces – you name it and there's a chance it can be built better using wood.
But how can you tell which kind of timber works best for your specific project? Firstly, choosing the right kind of timber depends on its intended use. In the plentiful Finnish forests, pine and then spruce are the most common species of wood, and these two coniferous species are also the most popular types of timber.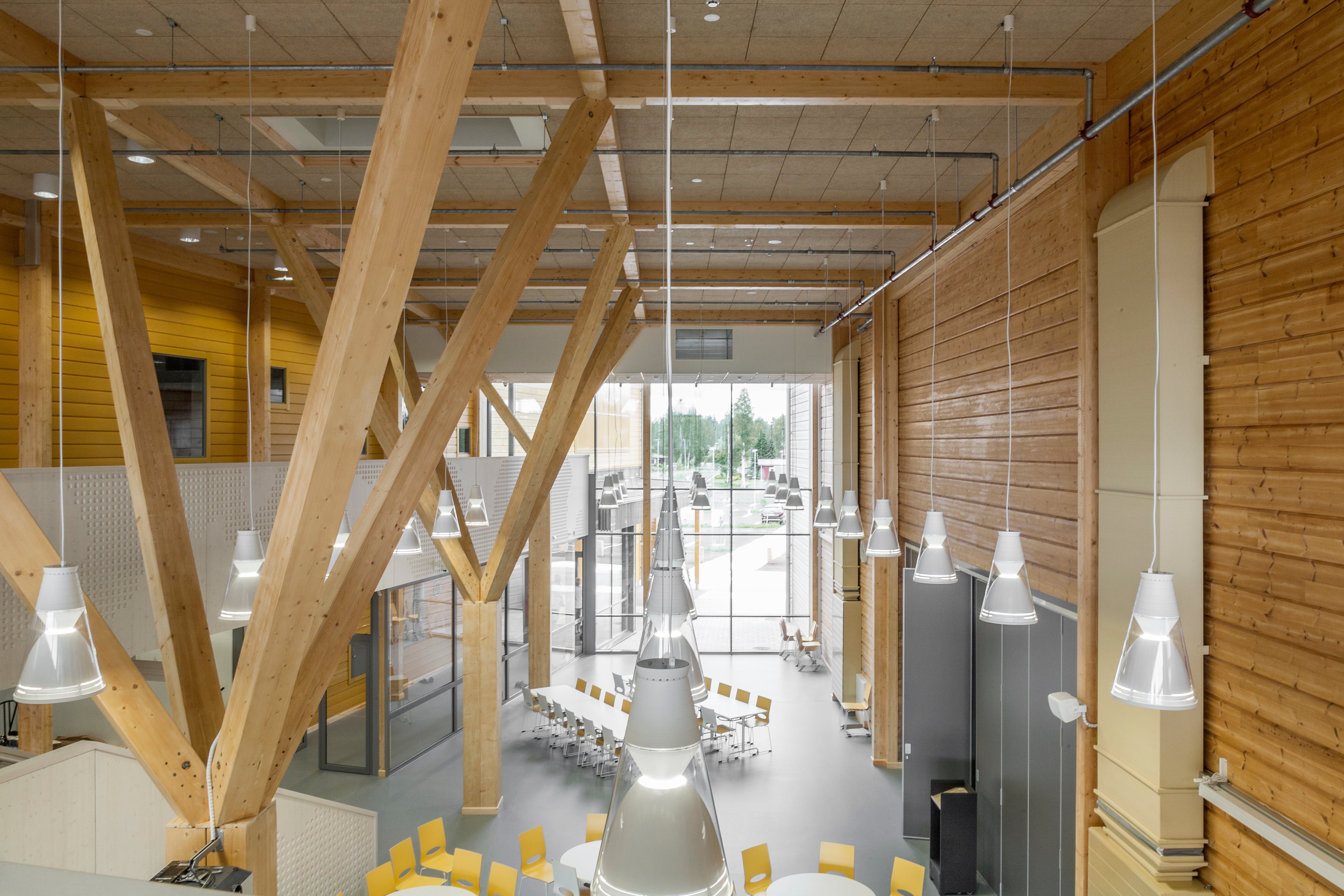 The Hirsikampus school, located in the Finnish town of Pudasjärvi, is a stunning example of using timber indoors. Photo: UPM Timber.
Which wood would work?
Pine – or redwood – is slightly more hardwearing than spruce – also referred to as whitewood – and better suited to indoor aesthetics, while both species can be used outdoors when treated appropriately. The cost difference between the two is not huge.
"Prices vary according to supply and demand. Spruce is consistent in its quality but pine has a different number of grades, which means it has more price variations; the bottom of a pine tree has fewer twigs, which makes it more valued and therefore more expensive. But the choice of timber is also a matter of taste – some people like to see branches in timber, and so they choose that," says Mika Nokelainen, who works as a Demand Planning Manager at UPM Timber.
Wood also has ecological and antibacterial qualities, with its usage in construction projects becoming a growing trend in both the public and private sectors. The breathable material absorbs moisture, which is a desirable feature that can improve air quality, while the fact it acts as carbon storage makes better for the environment.
"Wood doesn't provide a breeding ground for bacteria like concrete and glass do, and in log cabins the air is usually nice and cool, even during summer. Wood architecture has been a much talked about subject for years and it seems like we are finally close to a breakthrough and we are starting to see a lot more buildings made out of wood," Nokelainen predicts.
Wood can also be used to create cross-laminated timber, which is made by gluing together layers of solid-sawn lumber. The wood panels are breathable and have excellent structural strength, thereby enabling new architectural solutions. Buildings made of wood can also contribute to people's overall wellbeing.
"Wood is proven to have a soothing effect. When used indoors it creates a calm ambiance compared to glass and steel, and so wood is good for the psyche, too," Nokelainen says.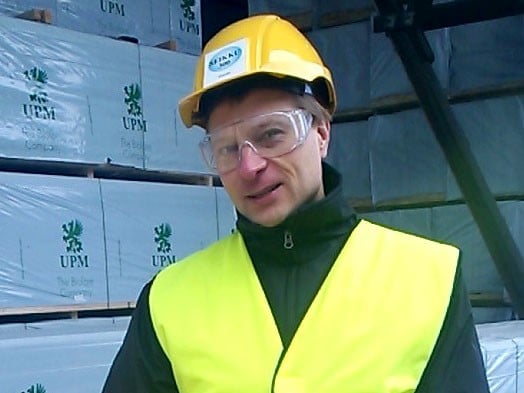 Mika Nokelainen has been at UPM Timber for nearly 19 years and knows the industry inside out. Photo: UPM Timber.
Moisture content and modification affect wood's qualities
Wood is a material that is sensitive to moisture. When freshly cut, the moisture content is naturally high and after sawing it goes through a drying process. When wood gets wet it expands, while drying causes shrinkage. The moisture content of timber varies between 8 and 24 per cent, and drier wood is recommended for indoor use, where air has lower humidity, as well as carpentry, furniture and in the building of log cabins.
"The most important thing to consider when choosing timber is its end use. Is it meant for an outdoor terrace, sauna or wooden floor? If you use moist wood in a hot and dry sauna, for example, it shrinks. For the same reason, interior doors and furniture are made using drier wood. Gluing processes in carpentry require drier wood too", Nokelainen explains.
When wood is used outdoors, the recommendation is to use pressure impregnated or heat-treated wood that is resistant to moisture. Pressure impregnation is only suitable for pine and not spruce, while heat-treatment can be applied to both.
"Untreated timber is not recommended for outdoor use. Pine especially starts to get mouldy and blue easily when blue stain fungi get its hands on it. When timber is appropriately treated or modified, it can handle moisture much better. I have witnessed during my travels in Japan how wood-treated wood can even been used to build bathtubs. I actually cannot think of a use for which wood is not suitable," he concludes.
Text: Laura Iisalo
Header image: UPM Timber/Annika Vesterinen