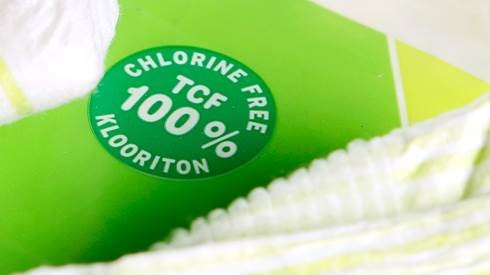 UPM BioBright TCF fluff pulps are alternatives for those producers and consumers who prefer products manufactured without any chlorine, chlorine dioxide nor any other chlorine chemical compounds. The bleaching agents used are oxygen, hydrogen peroxide or ozone.
By choosing our TCF fluff pulp to your product you will have
- Significantly lower residual OX, beneficial in the hygienic end use areas e.g. products in direct skin contact, products in food contact, such as cooking and filter papers and food packaging.
- Not any AOX (that defines the amount of organic chlorine compounds) spreading in water nor in any other part of the environment.
- TCF fluff pulps that provide the same excellent runnability and absorption qualities as our other fluff grades.
- UPM BioBright TCF fluff pulps that are developed to suit best for production of environmental friendly hygienic products like baby diapers, adult incontinence and ladies sanitary napkins, bed pads and various food and medical applications.
Please contact us for further information, we are happy to help!